Psoriasis and Migraine Headaches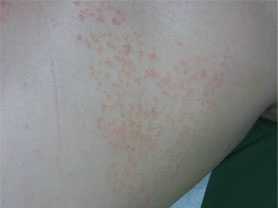 Before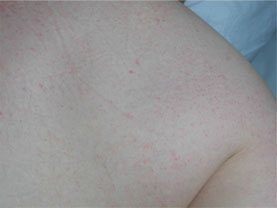 After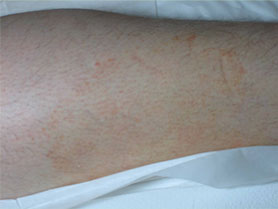 Before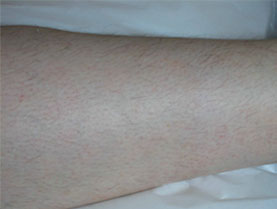 After
A 42-year old male experiencing psoriasis in his right elbow, left leg and back for ten years, had been using steroid cream for 3 years, and the patches of skin lesions kept recurring when he stopped using he cream. He also had a recurring headache behind his eyes since childhood, and it had typically become more debilitating throughout the course of a given day. He had been having cravings for junk food, as well has been eating dinner late at night (after 9 PM), and he had gained 40 pounds, despite having taken Hydroxycut. Upon arriving at HolliBalance Well-being Center, his psoriasis had been spreading to new areas and was worsening. After his initial acupuncture treatment, the itchiness was drastically reduced. With both internal and external customized herbal treatment, the reddening of his skin lesions decreased, and the lesion on his left leg, the one that he had had the longest, was actually the first to go away. Following 6-week treatment, all of his skin lesions had disappeared, and he only had one instance of mild headache during this 6-week period. Prior to the acupuncture and Chinese herbal treatment, he had intense headaches 3 times a week. His cravings have also subsided and he has been increasingly motivated to eat dinner at a more reasonable time of day.
Diabetes & Psoriasis
A 73 year old woman came to the center suffering from what she described as a "dry, itchy, and sandy" scalp, and was diagnosed with Psoriasis. In her meeting with Dr. Song, she explained that she has been diabetic for 10 years and had tried various means of treatment, from retail shampoos to Western creams, but there had been no improvements. After a comprehensive evaluation, Dr. Song discerned that the woman's diabetes were the cause for her Psoriasis. Dr. Song then gave her dietary recommendations regarding her dry skin condition, customized herbal drink for controlling her blood sugar and other diabetic related symptoms, and customized external herbal wash for the scalp that were to be applied nightly before bedtime. Within the first week, the "dry, itchy, and sandy" feeling improved and the Psoriasis was completely expunged.
OCD & Psoriasis
A 12 year old girl came into the center after her parents had seen her conditions of Obsessive Compulsive Disorder (OCD) and psoriasis of the scalp worsen over the past 6 months. Due to her OCD, she was unable to focus, often bearing paranoia thoughts regarding her personal notes. These thoughts plagued her for hours at a time. They produced an extremely difficult and unpleasant lifestyle. After 6 acupuncture treatments at HolliBalance Well-being Center, her OCD was less frequent and she was able to control the paranoia thoughts faster and more easily. As for her Psoriasis, Dr. Song had customized an external Chinese herbal formula that was applied topically before bedtime. Within a few days, the itchiness from her Psoriasis had disappeared!